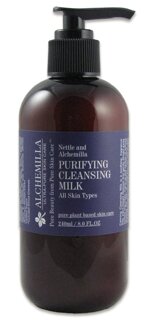 Purifying Cleansing Milk
Beauty Benefits:
- Clears away make-up and surface impurities.
- Stimulates and deeply purifies.
- Leaves skin clean, smooth and radiant.
- A natural facial cleanser suitable for all skin types.
Purifying Cleansing Milk is a refreshing organic plant-based facial cleanser that effectively clears away surface impurities and excess oil without disturbing the skin?s natural acid mantle. Formulated with stimulating botanicals, kaolin and mild biodegradable cleansing actives, this perfectly purifying facial cleanser leaves skin feeling clean, refreshed and radiant.
Natural Actives: Calendula*, Elderberru Flowers*, Geranium*, Hazelnut*, Honeysuckle, Alchemilla vulgaris (Lady's Mantle)*, Lavender*, Nettles*, Orange*, Rosemary, Butyrospermum parkii (Shea)*, Sunflower*, Epilobium angustifolium (Fireweed/Willwoherb) * Ylang Ylang*
* Organic
Directions for Use:
Morning and evening, apply a liberal amount to fingertips and massage into skin using gentle circular motions, including eye area if necessary. Remove with warm water and a wash-cloth. Follow with Alchemilla Clarifying Facial Toner or your favorite Aromatic Floral Water.