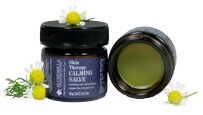 Calming Salve
0.8 oz (23g) $8.00


Botanical Benefits:
- A soothing natural botanical remedy for use on
  minor scratches, irritation after handling 'scratchy'
  plants, nettle stings and minor insect bites.
- Rich, soothing moisturizer for extra sensitive skin.
- May help reduce the appearance of rosacea.
- Contains no chemicals or aromatic ingredients.
- Great gift for moms, gardeners, campers, etc.
Based purely on the healing power of plants known for their calming, anti-irritant properties, this herbal topical remedy is designed to provide quick, soothing support to irritated skin associated with minor bites, stings and scratches. Especially useful for gardeners, campers and 'little owies'. May be used on the face or body, and as a nourishing daily moisturizer for extra sensitive skin and rosacea.
Calming Salve is a part of our 'Skin Therapy' topical remedy line. It has a wonderfully deep, natural herbal aroma. Keep one handy - it's an effective addition to the alternative first-aid kit.
Natural Actives: Agrimony*, Chamomile*, Chickweed*, Green Tea*, Nettles*, Plantain*, Tamanu*, Vitamin E, Epilobium Angustifolium (Willowherb/Fireweed)*
* Organic
Directions for Use:
Apply a generous amount to clean skin as often as needed. Gently massage into the affected area. May be used sparingly as a moisturizing intensive for extra sensitive skin.